Description
Everclear H105 Single Undersink Filter System
Now offering a more cost effective method of filtration, The Standard Everclear H105 Single Undersink filter system can remove the same as the Twin Undersink plus:
Remove Lead
Limescale (Great for Coffee Machines and Kettles)
Taste & Odour
Chlorine
Chloramine
Iron
Oxide
Sulfur Oxide
Manganese Oxide
Muddiness
Rust…and so on.
Advantages
The Everclear H105 Single Undersink Filter System is light, small, convenient to carry and easy to install
You don't need to use special tools and put-in plumbing.
Cartridge can be easily replaced every 12 months for keeping high quality water.
Service Life is every 7,500 Litres or 12 months, whichever comes first.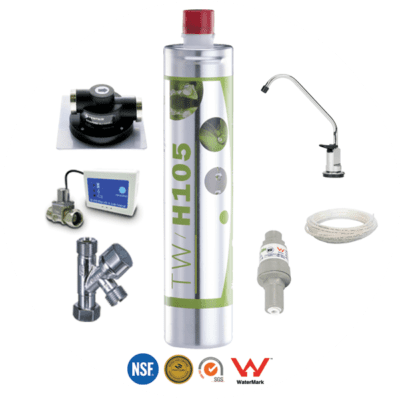 Service Costings
• Check Lines
• Check Fittings
• Check Water Diverter Tap
• Lubricate Housing
• Lubricate Seals on Cartridge
• Replace Cartridges
• Check for Leaks
$19 per Month
• Check Lines
• Check Fittings
• Check Water Diverter Tap
• Lubricate Housing
• Lubricate Seals on Cartridge
• Replace Cartridges
• Check for Leaks
$218.79 per Year
Everclear H105 Filter Specifications
Cartridge Service Life

7,570Litres or 12 Months (depending on water flow, quality and pressure)

Max. Pressure
Flow Rate
Filtration Media

Carbon Block Filtration
Compound Filtration
Polyphosphate Crystals

Seals
Warranty

12 Month Manufacturer Warranty